JP Bayly's "Sponsor A Family" initiative to provide 50 Fiji families with food and vanity family packs
The JP Bayly Trust is a Registered Charitable Trust established by the late Mr. JP Bayly in 1954 to provide for the welfare of the less fortunate and needy with basic medical care, food and clothing for their families as well as education for their children in Fiji.
In June 2021 JP Bayly Trustee, Barry Whiteside, spoke with Trust friends Jalal Dean (Adelaide), Atma Maharaj (Brisbane) and Nek Mohammed (New Zealand) about the  the fact that many Fijian families are facing severe and unprecedented hardship due to the economic fallout caused by the Covid-19 pandemic.
Barry writes, that thousands of jobs were lost over the past year in the Fiji dominant tourism sector and all its ancillary industries. We recalled the many others fortunate to still have some work, but on reduced hours or reduced pay.  Many of the job losses were those of sole family breadwinners.
There are many instances as well where both partners within the family lost their jobs.  A second wave of COVID 19 positive cases Fiji is currently facing, and consequent lockdowns, has impacted most other industries and businesses and resulted in further job cut backs with many small businesses simply unable to continue operating. The result of all this is that poverty levels in Fiji are at their highest and we do not see much improvement until our battle with the Pandemic is won and our economy bounces back.
In his talanoa Barry and his mates agreed that they did not see this happening until the new year at the earliest. It was then their discussion got more interesting as we asked ourselves what can we do about this, in addition to the normal welfare support at the Bayly Trust? We heard that there were many former Fiji residents in Australia and New Zealand and other countries, who would be more than willing to help in some way. Many were already assisting in one form or another. 
The challenge was to mobilise this goodwill. And so was born the idea of bringing together willing friends of Fiji to "sponsor a family", using the JP Bayly Trust as the conduit to deliver the support. The initiative is not a "once off" handout to identified families, but one that will provide them with food and vanity packs over six months. This would ensure some relief and stability for the family over this period.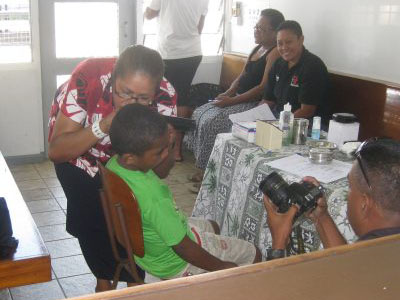 Children were excited to have their eyes and ears screened for free by the Project Heaven Trust, in conjunction with the JP Bayly Trust Suva Welfare Centre in Suva before they are referred to doctors.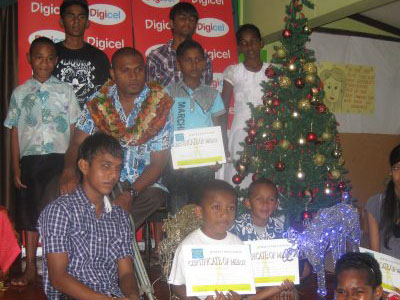 MORE than 114 children who have been assisted under Bayly Trust's Welfare and Education Centre got an opportunity to enjoy themselves at the Bayly Trust Fun Day at St Mathew's Anglican Church. They also met Paralympics Gold Medallist Iliesa Delana, who was an inspiration to most of them.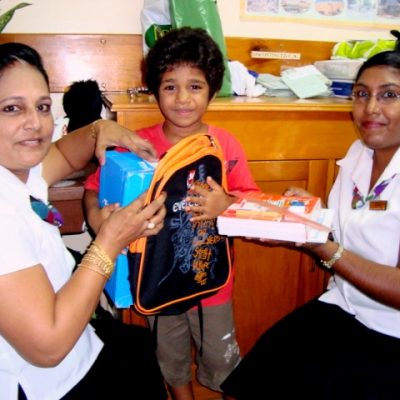 Many times life does not turn out to be what we initially hope and thrive for in our earlier years – then due to wrong choices made in life and various other factors, families find themselves in hopeless and vulnerable situations. Statistics in the country have shown that many people in Fiji live below the poverty line. The term 'capacity building' today seems to be the way forward for people in these situations. We must empower children with positive discipline and proper education. Education is the only way out of poverty. Education in school cannot be fully effective unless the education in the home is fully exhausted. Thus the role of parents has always been important. I personally express my deepest gratitude to the Bayly Trust for their unfailing support in ensuring families like mine are provided the education, medical assistance and welfare benefits needed to raise our children to be great Fiji citizens of tomorrow.
FijiLIFE Foundation has joined JP Bayly's "Sponsor A Family" initiative to provide 50 Fiji families with food and vanity family packs (for 5+ people) over six months. 
A family pack that serves 5+ members costs JP Bayly FJD$90 per month or FJD$540 for six months. This is approximately AUD$350 for one family pack a month for six months. So FijiLIFE Foundation's "JP Bayly Sponsor a Family Pack" is valued at AUD$350 each for a total Campaign Goal of AUD$17,500.
FijiLIFE Foundation will raise $17,500 for 50 family packs at AUD$350 each under the "JP Bayly Trust Sponsor A Family" program so families in the west, central, and northern divisions receive monthly food packs. A number of these are "walk ins"; families suffering breadwinner job losses.
Want to help Fiji families in the west, central and northern divisions of Fiji with "JP Bayly Sponsor A Family" packs?
A "JP Bayly Sponsor A Family" family pack (5+ persons) will cover a monthly welfare (food items) pack and vanity (soap and sanitary items) pack for six months. The delivery of monthly packs will be undertaken by JP Bayly staff.
The total budget for the FijiLIFE Foundation "JP Bayly Sponsor A Family" initiative is $17,500.00.
That just $350 per family which includes monthly welfare and vanity packs for 5+ family members for six months.
Please show your support for Fiji families battling severe and unprecedented hardship.
Your gift today means a welfare and vanity pack for 5+ family members each month for six months from the JP Bayly Trust to families under their care.
All gifts over $2 are tax deductible in Australia.
Help create a better future for those sole family breadwinners who have lost jobs and where both partners within the family have lost their jobs.
A brief on the JP BAYLY TRUST and its Activities
he JP Bayly Trust was established in 1954 by the late John Percy Bayly OBE and the Rev. Dr. George Hemming OF, MBE. The Trust provides mush assistance to the least privileged families in Fiji. The Trust has traditionally depended mainly on local donations supplemented by returns on its investments to carry out its welfare activities.
It is managed by a Board of Trustees comprising respectable Fijians willing to donate their time to this worthy cause. Currently there are five members: Digby Bossley (Chair), Anne Nacola, Barry Whiteside, Warren Yee and Dr Rufina Latu.
Each of its three regional Centres in Suva, Lautoka and Labasa, are administered by a local Committee comprising dedicated persons from the community, who also generously volunteer their time.
Each Centre has a Manager, employed by the Trust, who are supported by one or two staff. The overall day to day operations of the Trust comes under our General Manager, Mr. John Yee, operating out of the Bayly Head Office at 193 Rodwell Road, Bayly House, Suva.
Each Regional Centre operates a Medical Clinic, as well as Welfare and Education provisions for our registered families.
The Clinic provides free consultation as well as medication to over 400 families who are registered with the Trust while the Welfare arm provides weekly and monthly food rations as well as clothes to these families.
The Education arm assists all the children of these families in their pre-school, primary and secondary education by way of provision of free uniforms, footwear, text and exercise books. Also, a number of children in the tertiary institutions have their fees and other needs paid for by the Trust.
JPBT's financial year ends on 31st December and their accounts are audited by Ernst and Young. The latest audited accounts can be made available for your perusal upon request.

We provide food supplies for those who cannot afford it.

We provide medical assistance to the less fortunate of our society.
Help JP Bayly Trust Fiji with a tax-deductible
gift

 so you can make the biggest impact possible!